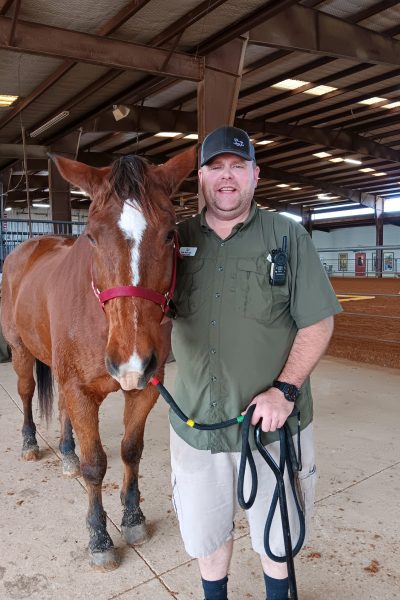 Erik Stoeckle's life took an unexpected turn when he discovered the healing power of ROCK, a program dedicated to supporting veterans through equine-assisted services. Little did he know that this encounter would become a pivotal chapter in his life's story.
Born into a military family, Erik's path seems predestined. His journey with ROCK began through his association with a Military Officer chapter, which was asked to provide volunteer support for the Veterans Program. This call to service came just over a week before Erik's introduction to ROCK.
From the moment he set foot on the ground, Erik immersed himself in various roles, each a testament to his dedication and passion. He took on the responsibilities of a Team Leader, Horse Handler, Veteran Horse Handler, and Pit Crew Trainer. It wasn't long before he became an integral part of the program, having also been a participant and rider in the Veterans Program.
Erik's experience at ROCK unveiled a newfound appreciation for the majestic creatures that share the space with him. Growing up around horses, he thought he knew them well. However, it was only through volunteering at ROCK that he truly grasped the remarkable connection between horses and human healing. Witnessing their ability to aid in physical and emotional recovery left Erik in awe.
When asked about his favorite aspect of volunteering, Erik finds it difficult to choose just one. Yet, working with the horses emerges as a clear frontrunner. The bond formed with these gentle giants becomes a source of inspiration and solace. Additionally, Erik cherishes the camaraderie with his fellow veterans and the dedicated volunteers who make each day at ROCK a transformative experience.
Beyond the stables, Erik's interests and pursuits are equally diverse. An avid ice hockey enthusiast, he frequents Texas Stars games in Cedar Park and proudly supports his hometown team, the Las Vegas Golden Knights. Reading is another cherished pastime, offering him moments of escape and reflection.
Erik's love for the outdoors is evident in his fondness for activities like hiking and swimming. His compassion for animals extends beyond the barn, as he devotes his time to their welfare. As a Board Member for the Williamson County Veterans Memorial & Plaza, located in Sun City, Erik plays a crucial role in honoring and supporting veterans in the community.
Having retired as an Army Officer, Erik's commitment to his fellow service representatives and service representatives continues through his involvement with the local chapter of the Military Officers Association of America (MOWW). Currently serving as the Chapter Adjutant, he ensures that the bond between veterans remains strong.
Yet, there is one remarkable honor that Erik seldom speaks of. In October 2016, he was bestowed with a distinction that elevates his service to a global platform. Erik became a Knight in the Order of Saint John, the oldest chivalric order in the world. This honor recognizes his tireless efforts in aiding disabled veterans, as well as children and adults with disabilities. To Erik, this knighthood is more than an accolade; it is a symbol of the profound impact one person can have on the lives of others.
Erik Stoeckle's journey from military service to a knighted advocate for healing and service stands as a testament to the power of compassion and the profound impact one individual can make in the lives of many. Through his unwavering dedication, Erik's legacy continues to inspire and uplift those he touches through his work at ROCK and beyond.