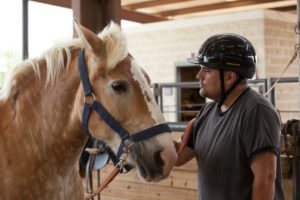 What Is ROCK On Veterans?
ROCK, Ride On Center for Kids offers ROCK On Veterans, a program for active-duty service members and veterans partnering with horses and veteran volunteers. The goal of this program is to improve the lives of servicemen and women who have suffered injury in the line of duty, helping them adjust physically and emotionally to their post-war lives. The cost for veterans and service members to participate in three 8-week sessions is 100% covered through fundraising efforts and grants.
Click here to download a PDF of the ROV brochure.
Services
Active-duty service members and veterans can be referred to ROCK by a physician, fellow veteran, or family member and are screened by one of ROCK's therapists and therapeutic riding instructors to determine the suitability of this treatment. Active-duty service members and veterans with a diagnosis of PTSD, TBI, amputations, burns, and neurological impairment may benefit from this service.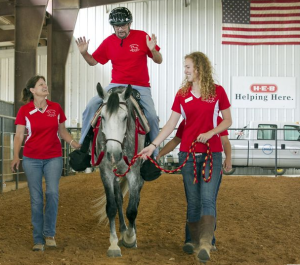 Benefits Seen
The dynamic movement of the horse simulates normal human walking. This works as a biofeedback mechanism retraining the motor and cognitive systems for improved function. Results may include…
Improved balance
Improved motor skills
Improved speech
Improved morale and well being
How to Get Involved
Active Duty Service Members and Veterans
If you have sustained an injury in military service and believe you would benefit from this service, you may complete the Client/Participant Application along with a medical that has been signed by a physician. You will complete a screening to determine if the you can benefit from the program.
Requirements for active duty service members and veterans receiving services:
DD214, military ID or Driver's license
Evaluation by ROCK staff
Physician release
Women Only Veterans Program
In addition to our co-ed programs, ROCK also offers a special women-only 8 Week Horsemanship Class with ROCK's equine partners. This class is designed to reach out to female veterans that have experienced trauma while serving our country. The program is free for female veterans and service members. Program includes a light dinner.
Volunteers
ROCK On Veterans is built on the foundation of "soldiers helping soldiers" and utilizes the camaraderie between servicemen and women to provide a healing environment, and pairs veterans with veteran volunteers whenever possible.
Veteran volunteers serve as sidewalkers and horse handlers and provide moral support to the participants.
For more information about volunteering, please visit our Volunteers page.
Camp Courage
Camp Courage is a horsemanship camp specifically designed for the children of all Military Branches of Active Duty Service Members and Veterans. Click here to view the Camp Courage brochure/registration form.
For More Information
If you are an active duty service member or veteran who has been injured in the line of duty, or if you are a physician, therapist, or medical professional who would like more information about our program, please contact us.
Heidi Derning – Heidi@rockride.org