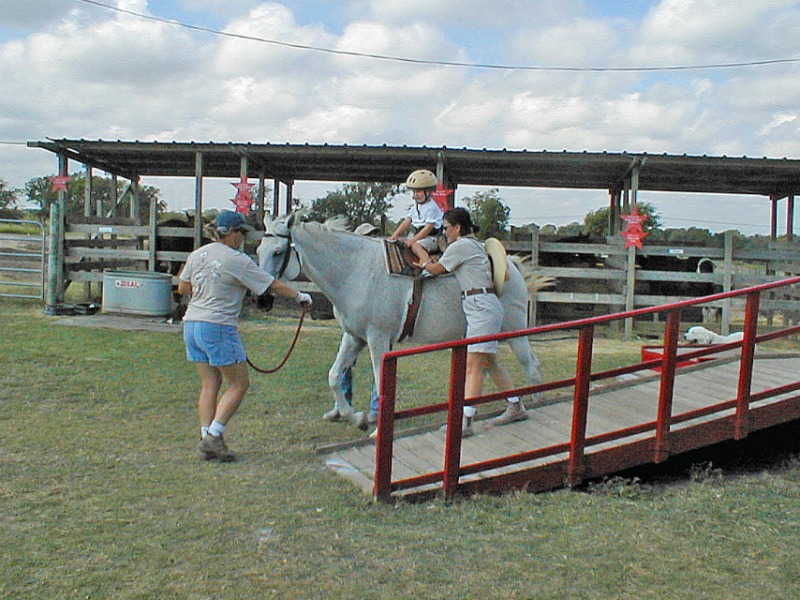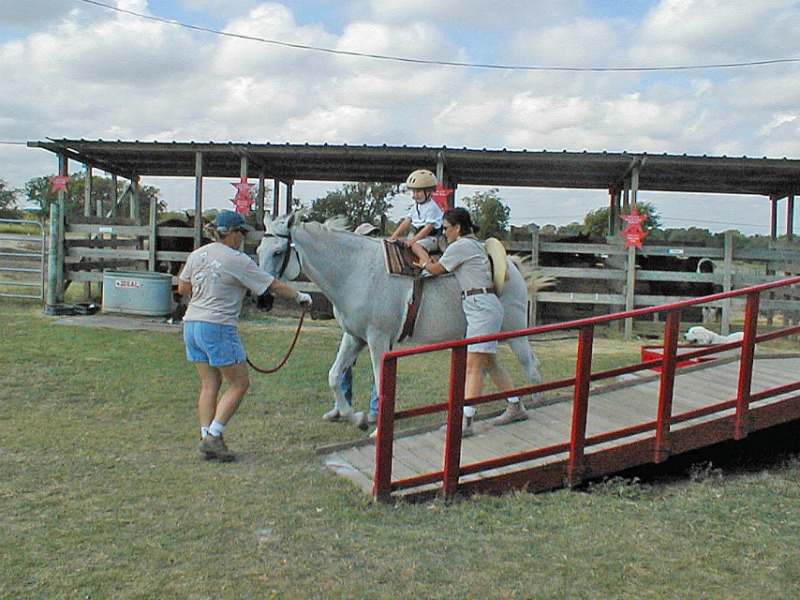 Spring 1998 – A child with Down syndrome is put on a horse at Kelly's Kids with Nancy O'Meara Krenek.
Summer 1998 – Nancy and Marlene Barry travel to Albuquerque for training with American Hippotherapy Association.
October 1998 – ROCK, Ride On Center for Kids begins with four (4) children and one (1) horse, Miss Prissy Texas at Emerald Meadows owned by Alida Darlington. Merlin Hoppe builds the first ramp.
January 1999 – George and Barbara Brightwell invite Nancy to coffee to discuss leasing and donating the original 20 acres of land.
Summer 1999 – ROCK begins to operate on the Brightwell property.
2003 – Margo Dewkett of Windridge, Longview, Texas leads the ROCK board retreat. She challenges the Board to build a covered arena. Ride Inside in 2005 campaign begins.
2005 – 1SGT Scott Sjule, with the Horse Detachment of the 1st Cavalry Division at Ft. Hood, Texas calls and requests ROCK's assistance to help put amputees on horses for rehabilitation at BAMC in San Antonio. This happens with Cavalry horses and active duty soldiers. ROCK documents four sessions with research and a video which goes viral. The program model is adopted by PATH Intl. and leads to programs nationwide.
January 2006 – Board retreat – Margo Dewkett returns. Board members and staff bless the newly constructed covered arena, each room, horse stalls, and parking area and write phrases of blessing over each space.
April 2006 – Dedication ceremony of the newly constructed Merlin Hoppe Arena and ROCK facility.
2007 – Research begins in earnest at ROCK. As of 2017,ROCK publishes three research articles in peer review journals and completes over 20 research projects.
2011 – ROCK remodels and adds additional offices, a ROCKateer Lounge, and expands the Lynne C. Christianson Therapy Gym.
2012 – Texas A&M University System (TAMUS) calls and requests ROCK begin an Equine-Assisted Activities and Therapy Center on campus in College Station in partnership with TAMU Corps of Cadets Parsons Mounted Cavalry. ROCK continues to manage this program today.
2014 – ROCK receives Ethics in Business Award by RecognizeGood.
2014 – ROCK purchases additional 20 acres to the North.
June 2016 & 2017 – ROCK is recognized and receives awards by Quality Texas Foundation.
July 2017 – ROCK purchases additional 20 Acres, House, and Barn to the South.