Ride On Center for Kids (ROCK), a 501 (c)(3) nonprofit organization, provides equine-assisted services to children, adults, and veterans with physical, cognitive and emotional challenges.
ROCK participants range in age from 2 to 90+ and see improvement in most aspects of their life — from muscle tone, strength, flexibility, and balance to cognitive, behavioral, communication and emotional improvements.
Serving Central Texas since 1998, ROCK's mission is to improve independence and life skills in partnership with the horse. Our center is located on 60+ acres in beautiful Georgetown, Texas.
ROCK's organizational vision is to be the trusted leader in equine-assisted services through research, education and programs. Serving an average of over 350 participants and their families every year, ROCK is recognized as a leader in equine-assisted services research.
ROCK is a PATH Intl. Premiere Accredited Center. Our programs include physical therapy, speech therapy, therapeutic horsemanship, ROCK On Veterans, and equine-assisted learning programs for schools, juvenile programs, and individuals.
In pursuit of ROCK's core value of Excellence, ROCK was the recipient of Pioneer Level recognition in 2016 and Commitment Level recognition in 2017 by the Quality Texas Foundation. You can learn more about the Quality Texas Foundation here.
If you haven't been out to visit ROCK, call 512-930-7625 to schedule a tour to see 'Healing Thru Horses' in person.
View ROCK's herd of therapy horses.
View ROCK's staff.
View ROCK's Board of Directors and Advisory Board
Nancy O'Meara Krenek
Founder and Chief Executive Officer
Director of Therapy & Research / Doctor of Physical Therapy/ Physical Therapist /
Hippotherapy Clinical Specialist
AHA, Inc. Member Therapist
PATH Intl. Certified Therapeutic Riding Instructor
Dr. Nancy Krenek has been a physical therapist since 1984 and has specialized in equine-assisted activities and therapy serving children, adults and veterans since 1998.
She is the CEO and Founder of ROCK (R.O.C.K., Ride On Center for Kids) in Central Texas (rockride.org) and the Executive Director of the TAMUS Courtney Grimshaw
Fowler Equine Therapeutic Program on campus in College Station, which has recently been sponsored by the ONE Health Initiative under the Texas A&M Biomedical
Department of Vet/Med (courtneycares.org). In addition, Nancy is also a board-certified Hippotherapy Clinical Specialist and an adjunct professor at Texas A&M.
Besides serving participants through connection with the horse, she has been instrumental in over 20 research projects, with four being published in peer reviewed journals. Her passions are her husband Frank and their blended family of 7 children and 10 grandchildren. She enjoys horses, pottery making, painting, biking, kayaking and air streaming.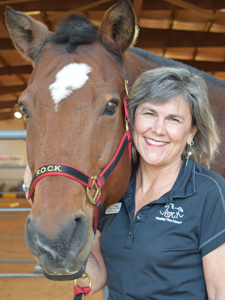 Dorothy O'Neal
Chief Operating Officer/PATH Intl. Certified Therapeutic Riding Instructor
Dorothy has been associated with ROCK since 2006. She came to ROCK as a parent of one of ROCK's participants. In 2009, she became a volunteer and in 2010 Dorothy became a PATH Intl. CTRI. She has a degree in Special Education from the University of West Florida.
She taught children with Behavior Disabilities and Cognitive Delays while living in Florida and was a resource teacher in the Round Rock School District prior to having children. Dorothy and her husband, Ron, have lived in the Austin / Round Rock area since 1996.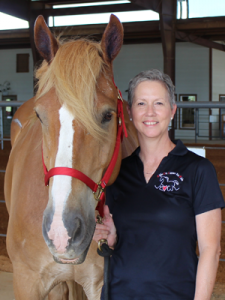 Susan Finfer
Chief Financial Officer
Susan brings over 35 years of professional experience in both corporate and nonprofit environments to ROCK Ride on Center for Kids. After graduating from the University of Texas at Dallas, she became a CPA.
Prior to joining ROCK, Susan was Vice President of Finance at the Austin Community Foundation where her responsibilities included management of the financial, accounting, HR and IT functions. Before that, she was a plant controller at The Pillsbury Company.
Susan enjoys spending time with her three grandchildren, reading, traveling, hiking, playing card games, and volunteering.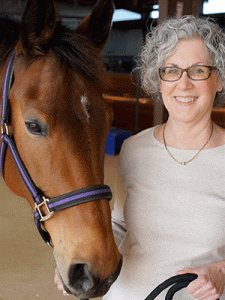 Kristin Witcher
Program Director / PATH Intl. Certified Therapeutic Riding Instructor
Kristin started volunteering as a sidewalker/horse handler at ROCK in 2007.
She became a PATH Intl. Therapeutic Riding Instructor in 2008.
After being away from therapeutic riding for 4 years, Kristin has returned to ROCK.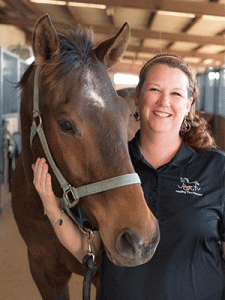 Shannon Middleton
Licensed Speech-Language Pathologist / Hippotherapy Clinical Specialist (HPCS) / PATH Intl. Certified Therapeutic Riding Instructor / Equine Specialist in Mental Health and Learning/PATH Intl. Mentor
Shannon joined the staff as an SLP in 2006 after volunteering for 2 years. She has an undergraduate degree in Education with a specialty in Speech Therapy and a master's degree in Communication Disorders.
She has been providing speech-language pathology services for over 30 years, including working with individuals with Cerebral Palsy, Autism Spectrum Disorder, Down syndrome, language disorder, articulation/phonological disorder, cognitive impairment, stroke and head injury.
She has incorporated hippotherapy as a treatment strategy for 18 years. Shannon has also presented at regional and international conferences, served on AHA, AHCB and PATH Intl. committees and was awarded the Region 8 PATH Intl. Credentialed Professional of the Year award in 2023.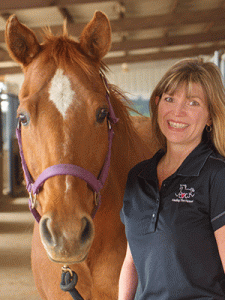 Karah Powell
Development Director
Karah has lived in Williamson County since 1996 but recently began living part-time on a ranch in Joppa, Tx. Her three daughters are proud graduates of RRHS. Jackie is a manager at Dell, Rachel is a Labor and Delivery nurse at Baylor Scott & White, and Samantha is a case manager at Integral Care.
Karah is most proud of her 6 wonderful grandchildren (Tati, Elijah, Roz, Jaina, Landon, Mara Jade, and her GREAT grandchild Tamir), who attend schools in the Leander ISD and College! Karah uses her spare time to mentor other nonprofit development professionals. Her newest hobby is driving a tractor.
Karah has served on several committees in the community and enjoys spending time getting to know those around her. Karah is an active member of the Round Rock Kiwanis Club and the American Legion Post 174 in Georgetown and serves with them at their events. Karah also is a founding member of drops of grace, a Williamson County nonprofit dedicated to disaster recovery, rebuilding communities in the United States, and serving humanitarian needs in Africa and Nicaragua. Karah sits on Congressman Carter's Women's Advisory Board.
Karah came to Central Texas in 1983 and was stationed at Bergstrom Air Force Base as a Morale Welfare and Recreation Specialist. It didn't take much for her to stay put in Central Texas once her military duty was over in the Air Force.
Karah holds a Certificate in Nonprofit Leadership and Management, Volunteer Management, Grant Writing, Communication and Marketing as well as Effective Fundraising from Nonprofit Austin at ACC.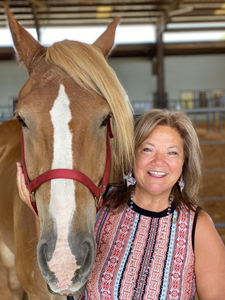 Donelle Beal
PATH Intl. Registered Instructor / Program Director of Texas A&M Courtney Cares Program
Donelle grew up riding, training, and competing in both Walker County 4-H Horse Club and High School Rodeo. She started as a volunteer at "Classic ROCK" in 2000. Two years later she earned her Therapeutic Riding Instructor certification from NARHA and began working as an instructor. Following a long break from ROCK, while she followed her husband through three moves, she returned to the ROCK staff in 2012 to assist in starting the Texas A&M University Courtney Grimshaw Equine Therapeutic Program, where she currently serves as Program Director. Donelle earned a BS in Education from Baylor University and taught high school geometry and computer science in Round Rock ISD. Donelle is now a Certified Therapeutic Riding Instructor through PATH as well as a Certified Horsemanship Association instructor in both western and English. When she's not in the arena, she is busy homeschooing her two daughters or riding her own horses.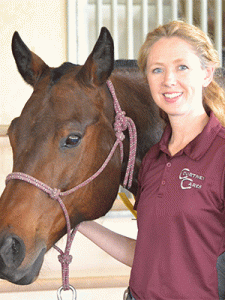 Priscilla Lightsey
PT / DPT / MA / HPCS / AHA, Inc. Member Therapist / PATH Intl. Certified Therapeutic Riding Instructor
Priscilla Lightsey is a Physical Therapist who worked at "classic ROCK" before moving to Beijing, China in 2007. She is the director of the equine-assisted therapy program she founded in Beijing, China: HOPE (Horses Offering People Enrichment) (www.hopebeijing.org).
Her credentials include a Doctor of Physical Therapy, a Master of Arts in Special Education, Hippotherapy Clinical Specialist and PATH Intl. Certified Instructor.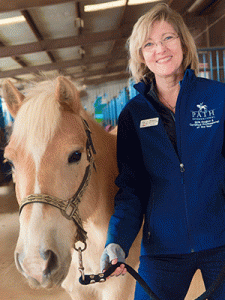 Mark Dial
Equine Manager
Mark's first memory is sitting on a horse with his dad many years ago. He has been in the horse world as a cowboy, trainer, manager coach and Equine Chiropractor and Equine Sports Massage Therapist.
Over the years Mark has either competed nationally and worked both nationally and internationally. While working in the Middle East he was the Chiropractor and Sports massage therapist of record for 2 world cup races.
Mark was also the coach for the USEF both senior and junior and young rider teams for 5 years, this was at the Olympic level.
He enjoys working with horses and people. He also believes horses can teach us a lot. As a Bedouin once said, the freshest you will ever breath is the air that passes between a horse's ears.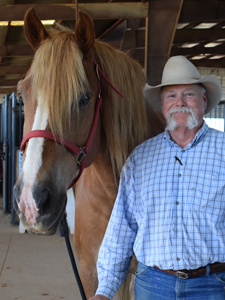 Devon Felts
PATH Intl. Certified Therapeutic Riding Instructor / Equine Assistant
Devon started at ROCK in August of 2014 as a PATH Certified Therapeutic Registered Instructor. She has been involved with our STAR program, our horse show team, and now is our Equine Assistant with the equine team.
Devon graduated with an associate's degree in equine science from Colby Community College and a bachelor's degree in animal science from Kansas State University. She has been riding horses for over 30 years and has 6 horses of her own.
Devon grew up showing hunter/jumpers all over the United States and still tries to show when she can. When Devon is not at ROCK she teaches lessons at her own place and enjoys spending time with her family, horses, sheep, dogs, and cats.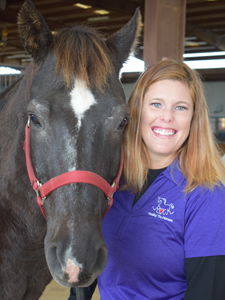 Olivia Coleman
PATH Intl. Certified Therapeutic Riding Instructor / Program Coordinator / STAR Program Co-Coordinator
Olivia moved down to Texas from New York in July of 2016 and quickly joined the ROCK staff as a PATH Certified Therapeutic Riding Instructor in August of that same year. She has now been at ROCK for the last 5 years. In addition to teaching participants out in the dirt, she also organizes and runs the ROCK Rodeo, Summer Camp, and the STAR program for individuals interested in becoming a certified instructor.
Olivia has been riding and working with horses for the last 20 years and is lucky enough to own her own pony named Rain. When Olivia is not working at ROCK, she is usually out with her horse or relaxing with her husband.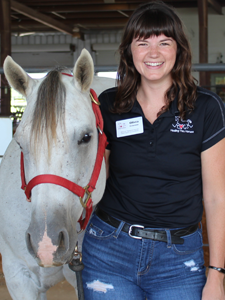 Phoebe Miller
PATH Intl. Certified Therapeutic Riding Instructor

Phoebe is from a small coal town in Southeastern Montana. She grew up around cattle and horses and graduated from Rocky Mountain College in Billings, MT with a Bachelor of Science degree in Equine Science- Therapeutic Riding and a minor in psychology. Phoebe received her PATH certification in 2018.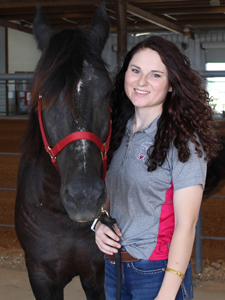 Amanda Mott
PATH Intl. Certified Therapeutic Riding Instructor
Amanda began riding horses at the age of 8, and has over 20 years of experience riding and working with horses.
She attended California State University, Fresno where she rode on their equestrian team, and received her Bachelor of Science degree in Equine Science in 2007.
Upon graduation, she began teaching riding lessons and quickly realized that it was her passion in life. In 2015 she relocated to Texas from California with her husband and son.
Amanda came to ROCK in 2016 as a volunteer and a participant in the STAR Instructor in Training Program and received her PATH Intl instructor certification in 2017.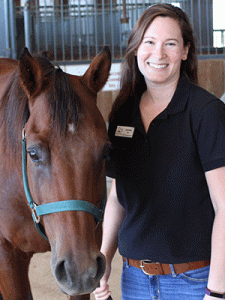 Amy Keck
PATH Intl. Certified Therapeutic Riding Instructor
Amy's life at ROCK started when she began volunteering here 2 years ago. She thoroughly enjoyed being around the clients, other volunteers, and horses so much that she decided to apply for the STAR program in 2016.
After a year of training and perseverance, Amy passed her examinations in August 2017 and happily accepted a position at ROCK in September.
Her desire as an instructor is to impart a lifelong love of riding and improved independence for her clients. She wants each individual to feel loved and accepted every time they walk into the House that is ROCK.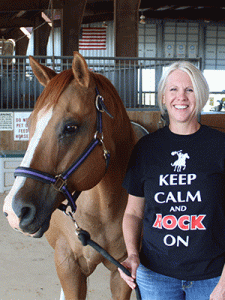 Heidi Derning
PATH Intl. Certified Therapeutic Instructor / ROCK On Veterans Coordinator / Equine Specialist in Mental Health and Learning
Heidi is a PATH Intl. Registered Instructor and Recreational Therapist (TX Certified) who has had the great opportunity to be with ROCK since 1999. Over the years, she has worked as the center's volunteer coordinator and as a full-time therapeutic riding instructor. She is passionate about and coordinates the Veterans program.
Heidi wasn't born in Texas but got here as soon as she could in the 2nd grade! (Originally from Seattle) She has been married for 29 years to her ROCK supportive husband, Brett, and three grown children (Allyson, Kevin & Julia), son-in-law Brennan, three crazy dogs and one tough cat.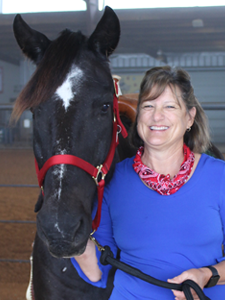 Kevin Bowers
PATH Intl. Certified Therapeutic Riding Instructor / ROV Co-Coordinator
Kevin is a former Regional Environmental Operations Manager for Cleveland Environmental of San Francisco, California, a Division of Cleveland Wrecking, The World's largest General Engineering Company specializing in Fortune 500 Demolition and Environmental Engineering Remediation Projects around the world.
He has studied Environmental Remediation at UC Berkeley, Berkeley, CA; studied Psychology at the University Of Texas, Austin, TX; and studied Psychology at The University Of Nebraska, Lincoln, NE. Kevin had a 150 acre Ranch in Northern California where he bred and trained Domestic as well as Mustang Horses.
He also developed Kind and Wilde Ranch in Northern California, where inner city Youth from Oakland and San Francisco California could escape the dangers of the inner city and find the Peace and Tranquility afforded one by getting their feet in the dirt and working with Horses in a Beautiful and natural setting.
After moving back to Texas, he found his true calling while volunteering at ROCK Ride on Center for Kids. He went through ROCK's STAR program, became a PATH certified instructor, and was hired to work at ROCK. He currently teaches therapeutic riding at ROCK and is the co-coordinator of the ROCK On Veterans program where veterans work with the healing powers of the horse.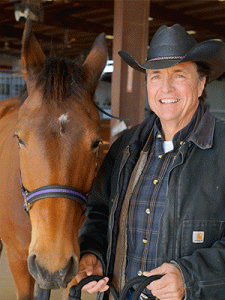 Stephane Troxell
PATH Intl. Certified Therapeutic Riding Instructor

Stephane is a native Texan and graduate of University of North Texas with a B.S. in Business. Stephane and her husband resided in Virginia before he retired from the Navy in 2014. As a Navy spouse, she began several programs for children of military families for 10 years.
Looking to get involved in something here in Texas, a friend introduced Stephane to the ROCK On Veteran's program here at ROCK where she started out as volunteer. After experiencing the power of horse therapy, she knew this was the vocation for her. As a volunteer, Stephane and the Women Veterans entered the Chisholm Trail Community Foundation Fast Pitch event and earned $10,000 for the Women's program here at ROCK. Stephane was eventually accepted into ROCK's STAR program to prepare for certification as a PATH Intl. therapeutic riding instructor and began working here in 2019.
In her free time, Stephane cares for her two horses, a mustang named Comanche and a quarter horse named Whiskey as well as her four dogs. Stephane and her husband enjoy cowboy action shooting and are members of SASS (Single Action Shooting Society).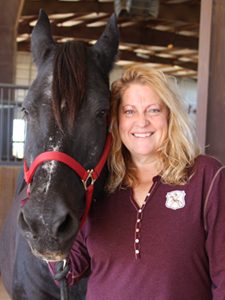 Brittney Brigham
PATH Intl. Certified Therapeutic Riding Instructor
Brittney joined ROCK in November 2021, after graduating with a BA in Therapeutic Horsemanship from St. Andrews University in Laurinburg, NC. During her time at St. Andrews, Brittney also interned for three summers with Good Hope Equestrian and Regenerative Farm where she helped transition them from their Miami, Florida location to their new home in Halifax, VA.
Originally from Miami, Florida Brittney enjoys taking ridings lessons, spending time on the water and her dog Dewey. Brittney received her PATH Intl. CTRI Certification from St Andrews in 2020 and looks forward to gaining more experience in specific teaching strategies while sharing her creative lesson plans with the ROCK staff. Brittney has 15 years horse experience and is excited to continue her passion for Equine Assisted Services while at ROCK.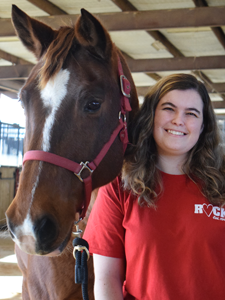 Lauren Crabb
Physical Therapist Assistant
PATH Intl. Certified Therapeutic Riding Instructor
Lauren is a transplant from Kalamazoo, Michigan who is a CTRI and physical therapist assistant.  She began her journey in the therapeutic horsemanship world at the Cheff Center in Michigan during high school. She then went on to graduate from St. Andrews Presbyterian College with a bachelors in therapeutic horsemanship in 2010.  She spent the past nine years working at different physical therapy clinics in southwest Michigan.  She is very excited to be able to use her wide variety of experiences here at ROCK.
Outside of ROCK she enjoys anything outdoors, astrophotography and running with her Heinz 57 mutt!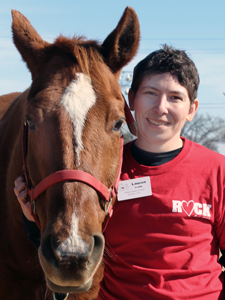 Louisa Chandler
Administrative Assistant

Louisa joined the Volunteer Department at ROCK in January 2020 after 2 years of volunteering in the arena. She is a native Texan who attended Tyler Junior College before earning a BS in Communications from Mary Baldwin University in Virginia. She met her husband, Brad, while in school in Virginia. After getting married in Austin, they spent 8 years in the Air Force and then moved back to Austin where they raised their 3 children. Louisa served on the Board of Directors of several different non-for-profits in the Austin area where she managed membership and communications/social media.
Her lifetime love of animals led her to work in the veterinary field as a surgical technician before she and Brad moved to Georgetown in 2016. She's been involved with 2 dog rescue groups in the Austin area for over 15 years – it is not unusual for there to be more 4 legged beings than 2 legged beings in her house at any given time.
When she's not having fun in the dirt at ROCK, she can be found enjoying time with her family and pets, cooking, reading, gardening, and spending time at the family's property in Weir. The beach is also a favorite place.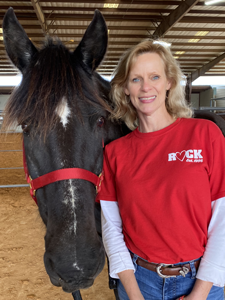 Susy Turnbull
Volunteer Coordinator

Susy Turnbull joined us in December 2022 coming to us from San Diego, CA. Her background is coordinating volunteers with the American Red Cross for twenty years and coordinating volunteers with the Poway Fire Department for seven years. Prior to working for the American Red Cross, Susy worked for ten years at a residential facility for adults and children with Developmental Disabilities. She graduated from San Diego Christian College with a degree in Counseling / Psychology. She enjoys spending with family here in Georgetown and visiting family in Oregon and Chicago. She is the proud mom of Beatrice the Cat.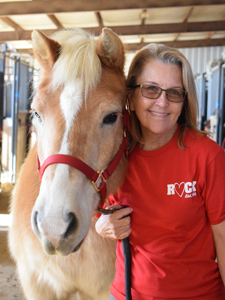 Rebecca Delich
Accounting Department Manager
Rebecca joined ROCK in 2016 at the recommendation of a friend who volunteered at ROCK. She's a native Central Texan who has over 20 years of accounting/bookkeeping and payroll experience from her work in several companies and state government.
When Rebecca is not at ROCK, she enjoys spending time with her husband and two children, reading, traveling, and working on a variety of puzzles.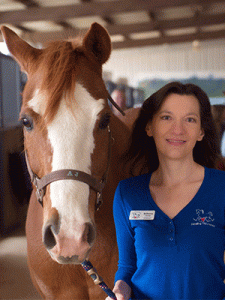 Sidney Garrison
Facilities Manager
A native Texan, Sidney has been immersed in the world of horses since childhood. Some of the earliest images capture him seated in his father's lap atop a horse. Following high school, he dedicated time to working on various ranches before enlisting in the U.S. Army. Sidney spent two decades as an electrician, with the last 13 years prior to joining R.O.C.K. focused on constructing cleanrooms for pharmaceutical use.
Sidney enjoys venturing to the mountains each autumn to pursue elk. He also takes great pleasure in watching his grandchildren play and participating in team roping. His work at ROCK is a source of genuine enjoyment, as he firmly believes that doing what you love never feels like work.
After several months with ROCK, Sidney can clearly see the profound impact it has on clients' lives, extending beyond just those who ride, to their families as well. ROCK has also left a significant mark on Sidney's own life, offering a renewed sense of joy as he witnesses the smiles of those who ride. Despite facing several close calls in his early years, Sidney always maintained the belief that God had more in store for him. Now, he sees that ROCK is exactly where he was meant to be.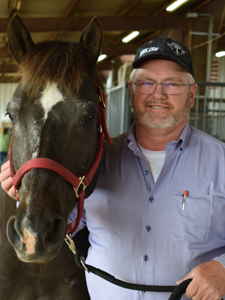 Scott Cummings
Facilities Manager Assistant
Scott, with a diverse engineering background, is passionate about solving complex problems and mentoring in STEM fields. He's mentored for organizations like the National Science Foundation and the National Robotics Competition, while also volunteering at Children's Hospital of the King's Daughters and Saint Jude Children's Hospital. His deep connection with horses reinforces the importance of ROCK's mission.
As an adjunct professor, Scott teaches technology development, road mapping, strategic positioning, and leadership. He holds a BS and MS in engineering, and pursued further studies towards a PhD. Scott's career includes leadership roles in high-level projects, earning him the Navy's Medallion Award. Now, he supports ROCK, combining his love for horses and the outdoors.
Recently retired and in Texas with family, Scott champions STEM initiatives, enjoys cycling, and embraces outdoor activities.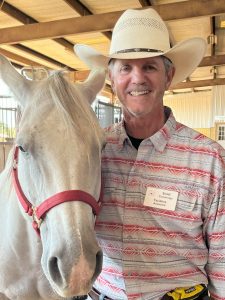 Steve Duhamel
Facilities Manager Assistant
Steve hails from San Diego, CA, making his way to Georgetown with retirement on his mind. However, his inexhaustible energy quickly revealed that retirement wouldn't suit him. A fortuitous chain of events led him to ROCK, starting with the ROCK On Veterans program. Recognizing the significance of volunteering, he transitioned to the role of sidewalker, where he developed a profound affection for the herd and a natural affinity with the horses. This led him to take on the role of horse handler, frequently assisting with the feeding team. He plans to continue these responsibilities alongside his work with the facilities team.
With a diverse background encompassing facilities and facilities management, construction rehabilitation, landscaping, and overseeing the construction desk at Home Depot, Steve brings a wealth of experience. He also demonstrates exceptional proficiency in mechanical matters. He thrives on staying occupied, dedicating himself to hard work, and offering assistance whenever possible.
Steve attests that his time at ROCK, both as a volunteer and as part of the ROCK On Veterans program, has profoundly influenced him for the better. He believes he was guided to this remarkable place and holds his involvement at ROCK, whether as a volunteer, veteran, or employee, in high regard. He is elated to be a part of a team that makes such a positive impact on so many lives.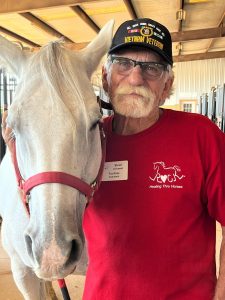 Chris Foret
Facilities Manager Assistant
Bio coming soon!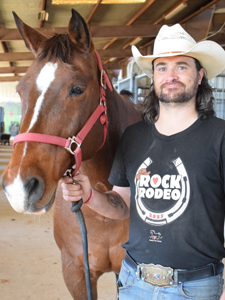 Joan Culter
PATH Intl. Advanced Certified Therapeutic Riding Instructor
Joan began her journey with therapeutic horsemanship as a volunteer at Equest in the early 90's. In 2001, Joan received her PATH Intl Registered Instructor certification.  She spent time at Children's TherAplay in Carmel, IN before returning to Texas and joining the staff at ROCK, Ride On Center for Kids.
Joan held several positions at ROCK from 2003-2010 when she and her husband Greg moved to Texarkana and Joan worked at Runnin WJ Ranch. Joan returned to Equest in 2013 until her return to ROCK on July 1st!  Joan is a PATH International Advanced Certified Instructor, Equine Specialist in Mental Health and Learning, Level 1 Carriage Driving Instructor, an Accreditation Site Visitor and an Instructor Certification Faculty/Evaluator. Joan has served on several PATH International Committees including PATH International Equine Services for Heroes task force and committee.
Joan enjoys spending time outdoors and cooking with her husband Greg.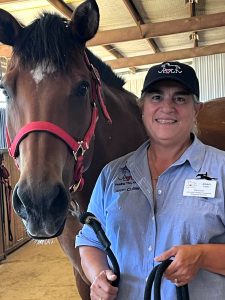 Angie Loiselle
Volunteer Coordinator Assistant
Angie is filled with gratitude for the opportunity to join the ROCK herd in their noble mission of aiding others. Her family has been actively involved in volunteering at ROCK for some time, and they cherish the moments spent with the remarkable people and horses.

Angie's background is rooted in Pflugerville, where she grew up and later pursued a BA in business at Concordia University in Austin. Her professional journey led her into sales support and advertising, but she made the conscious choice to step away from her career to focus on starting a family. Since that pivotal decision, she has dedicated herself wholeheartedly to raising exceptional individuals. A significant aspect of her parenting philosophy revolves around instilling in her children the values of community engagement and leaving a positive mark on the world. Together, they have actively participated in volunteering efforts with their church, the American Legion, and, naturally, at ROCK. In addition to her community work, Angie also plays a role tending to the land and cattle on her family's ranch.

Her unwavering belief in the power of faith, hard work, and determination fuels her conviction that great achievements are attainable. She is eagerly looking forward to applying these principles to her work at ROCK and is excited to see what the future holds for her in this new endeavor.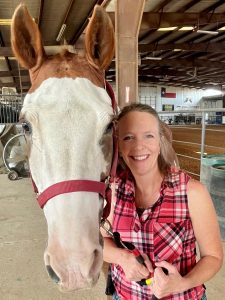 Nikki Anthony
Community Outreach Coordinator
With nearly a decade of experience in Development and Fundraising, Nikki is dedicated to raising funds and awareness for various causes, aiming to increase community awareness of their needs. Her drive comes from a deep desire to give back and create a lasting positive impact.
Nikki excels at cultivating relationships with donors and volunteers, a key passion in her career. Beyond work, her family – husband Ian and son Ollie – hold a special place in her heart. A proud University of Oklahoma alum, she proudly supports the school's crimson and cream.
In her free time, Nikki enjoys travel, staying active, and tending to her garden, showcasing her diverse interests and well-rounded commitment to both professional and personal pursuits.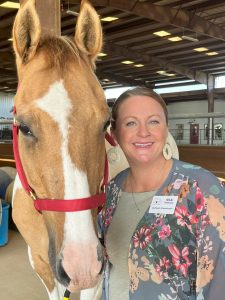 Loni Chagnon
Full Charge Bookkeeper
Loni is deeply rooted in country living, where her love for horses blossomed at an early age. With four horses and a lively assortment of animals at her homestead, her passion for animals is evident. Loni generously devotes her time to the Williamson County Sheriff's Posse Rodeo team, where she proudly serves as the 2024 WCSP Drill Team Captain.
In the realm of accounting, Loni boasts over two decades of expertise. Joining ROCK as a Full Charge Bookkeeper, she brings a wealth of experience to the team. Loni's commitment to financial precision and strategic thinking greatly benefits the organization.
Since marrying her High School Sweetheart in 2000, Loni has cultivated a family grounded in shared passions. Her two daughters, aged 10 and 17, share her love for horseback riding, ensuring that this cherished legacy endures for generations to come.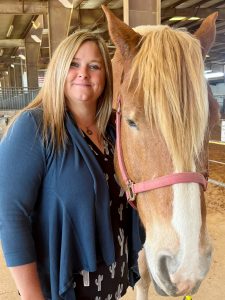 2023-2024 Board of Directors
Chris Miller, President
Victor J. Bero, Vice President
Steve Shook, Treasurer
Carol Sandlin, Secretary
George Brightwell, Board Emeritus
Patrick Breen, DVM, Past President
Bruce Bessner
Matthew Easton
Dan M. Gattis
Carter Hall
Susan Harris
Rita Healy, CHA
Erin Koval, MD
Barrie Laing
Judy McLeod
Lindsey Roberts, Past President
Dana Smyth
Ron Swain
Stephanie Zinsmeyer
2023-2024 Board of Advisors
Patti Colbert, Chair
Dr. Barbara Brightwell, BOA Emeritus
Ron Coleman
Curtis Crenwelge
Charles W. Graham, DVM
John Gustainis
Wayne Hurst, DPM, FACFAS
Frank Krenek
Hon. Betsy Lambeth
Edward Logan
Bill Mateja
Al Mowdy
Nolan Ryan
Reid Ryan
Ron Shelly
Email a board member at board@rockride.org