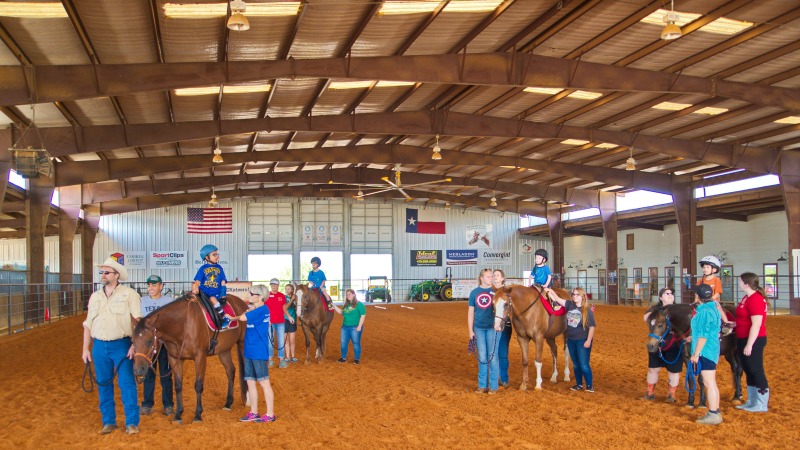 Equine-Assisted Therapy (EAT)
Equine-Assisted Therapy (EAT) is a physical, occupational, and speech-language therapy treatment strategy that utilizes the dynamic movement of the horse to achieve therapy goals.  This type of treatment is effective because the gentle, rhythmic movement of the horse simulates human walking. Currently, ROCK offers physical and speech-language therapy incorporating equine movement.
Who Benefits?
Individuals with:
Amputation
Brain Injury
Cerebral Palsy
Muscular Weakness
Speech / Language impairment
Spinal Cord injury / impairment
Stroke
Visual impairment
What are the Benefits of Equine-Assisted Therapy?
Improved muscle strength
Increased flexibility
Increased fine motor skills
Improved communication
Awareness of one's body in space (proprioception)
Improved range of motion
Equine Assisted Activities (EAA)
Also known as Therapeutic Horsemanship, EAA is designed to teach horsemanship and riding skills to individuals with special needs, with the goal of increasing functional life skills. Lessons are taught by PATH International certified therapeutic riding instructors.
Who Benefits?
Individuals who may have:
Autism
Attention Deficit Disorder
Cerebral Palsy
Developmental Delay
Downs Syndrome
Hearing and Vision Impairment
Learning Disabilities
Multiple Sclerosis
Muscular Dystrophy
Stroke
What Are the Benefits of Equine Assisted Activities?
Improvement in cognitive skills
Improvement in social skills
Improvement in behavioral skills
Increased emotional well-being
Increased self-esteem
Increased balance, motor control, and coordination
Equine-Facilitated Learning (EFL)
EFL is an educational approach that incorporates equine facilitated activities using the experience of equine/human interaction in an environment of learning and self discovery.

ROCK On Veterans
ROCK On Veterans offers co-ed and women only programs for veterans and active duty service members, as well as programs for veteran families, partnering participants with horses and veteran volunteers. Meals are served during the Monday and Tuesday evening classes to build comradery and expand the ROCK On Veterans community. Learn more about our ROCK On Veterans program here.

STAR Program – Instructors in Training
ROCK's STAR Program is currently interviewing for Instructors-in-Training. The STAR Program is a 2-part course to prepare individuals to take the PATH Intl. Certified Therapeutic Riding Instructor (CTRI) exam so that they may join the industry offering safe, quality therapeutic riding sessions to individuals who have disabilities. This course runs June through December, and the price for the course is $2000. (If you are interested in the summer classroom segment only, please let us know. It will be offered for a lesser fee). At the end of the STAR Program, the student instructors should have the requirements needed to take the online PATH Intl. CTRI examination.
Since we are only able to take 2 student instructors at a time, interested candidates must: 
Be at least 18 years of age

 

Provide 2 letters of reference, preferably from PATH Intl. Professionals or professionals in the equine industry

 

Complete a face-to-face interview with our STAR Instructor and Safety and Education Director and demonstrate their riding skills at a walk/trot/canter. 

 
The 2 student instructors chosen from the interested candidates will be chosen based on: horseback riding skills, equine handling experience, knowledge about equines, experience working with individuals with disabilities, experience teaching riding skills and completion of the above requirements.  
 If you would like to set up an interview and riding demonstration, please contact Shannon at shannon@rockride.org by January 17th. 
School Programs (EAL)
Through partnerships with local school districts, ROCK is able to create connections with the horse and facilitate learning between diverse student populations through equine-assisted learning (EAL) programming.
Competition Horse Shows
ROCK students have the opportunity to participate in a variety of competitions and horse shows throughout the year! Competition opportunities include Regional and State Special Olympics and the Star of Texas Gold Stirrup Horse Show and other local competitions.
Summer Camp (EAL)
ROCK offers summer camps during the month of June. Click here to learn more about Summer Camps.
TAMUS Courtney Cares Equine Therapeutic Program
In 2012, ROCK began partnering with Texas A&M University System to provide the staff, knowledge, and expertise in equine-assisted activities and therapies for this program in College Station, Texas. Learn more at CourtneyCares.org.
Research in Partnership with Institutions of Higher Learning
ROCK is fulfilling our vision to be the trusted leader in equine-assisted activities through service, research, and higher learning by collaborating with universities to conduct research to document the effectiveness of equine-assisted activities and therapies. Click here to view our published research.
H.O.P.E. (Horses Offering People Enrichment)
ROCK provides educational and intern support to this non-profit EAAT program serving children with special needs in Beijing, China founded by Dr. Priscilla Lightsey. Learn more at hopebeijing.org or contact priscilla@rockride.org.