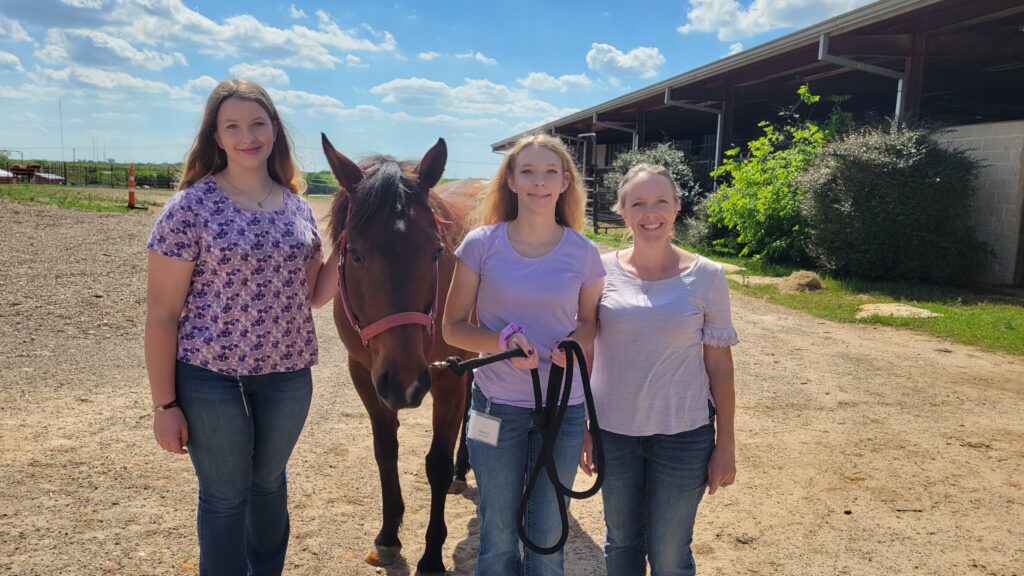 This month ROCK is excited to feature not just one ROCKateer for the month of April but three! We chose to feature Angie Loiselle and her daughters, Ava and Tayler Loiselle. This family spends Wednesday afternoons at ROCK, coming together to volunteer as a team. Keep reading to learn more about the Loiselle's experience volunteering at ROCK and what they enjoy most about being a part of this special community.
Angie, Ava and Tayler initially learned about ROCK while having lunch at Chick-fil-A, where they saw information about ROCK on their table. Although Ava and Tayler were not old enough to volunteer at the time, the family continued to follow ROCK's activities and started volunteering as soon as they could. Now, they are an integral part of the organization, volunteering in various roles.
Angie is a sidewalker and arena assistant, while Ava and Tayler take on multiple roles, including sidewalking, horse handling, and feed team. They also enjoy helping with special events and other tasks as the need arises. The family has found that volunteering at ROCK has quickly become a home away from home for them. They feel welcomed and encouraged, which has opened new experiences that might have been intimidating without all the support.
When asked about their favorite thing about volunteering at ROCK, the family unanimously agrees that it's the people. The riders, staff, and other volunteers all come together to create something incredible, which makes it rewarding to be a part of something so special.
Outside of ROCK, the Loiselle family leads an active lifestyle. They homeschool, work on a family ranch, and participate in various 4-H activities. Ava and Tayler are both officers of the 4-H Hoofpicks club and compete in horse judging contests, fashion, and interior design projects. Angie is the teacher, chauffeur, and encourager that holds it all together.
Finally, the family wants people to know that they love Jesus, and everything they do is in service to Him. This fills them with joy and allows them to give themselves fully in all that they do. Whether it's side walking or spending time with friends, they hope to share this joy through love and service to others.
The Loiselle family's story highlights the positive impact that volunteering can have when it becomes a family affair. By working together to serve others, they have found a home away from home and a sense of purpose that goes beyond themselves. ROCK is fortunate to have such dedicated volunteers, and we hope that their story will inspire others to get involved in their community.