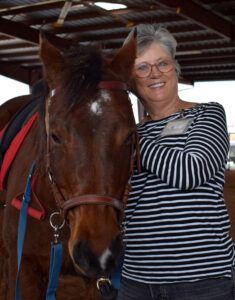 With hundreds of volunteer spots to fill each week, you can imagine that the ROCK volunteer department relies on having ROCKateers who can consistently commit to class times. Even then, between vacations and life, there's always a spot to fill. It is in those cases when we really appreciate those ROCKateers who can step up and fill in on a moment's notice. This month's featured ROCKateer, Chris Scherwin, is one such ROCKateer who is often ready to take over when the need arises. Keep reading to learn a little more about Chris and we think you'll quickly see why we chose to feature her this month.
How did you first learn about ROCK?
I first came across ROCK during the 2020 Pandemic. I'd been an active Volunteer with Hospice Austin for 20+ years, and when going into peoples homes was no longer possible, I started looking for something new. I wasn't quite sure what I was looking for until I found ROCK on the Internet.
What is your volunteer role?
My current role at here is Sidewalking. I like to call myself a "Fill-In-The-Blanker" because I fill in the gaps by picking up classes from the needs list sent out in the weekly needs emails. I enjoy watching and learning from each and every team I have the privilege of working with. And I find even greater joy in seeing the progress in the Riders. I am grateful to be able to be a "dot" in the big wonderful world of ROCK.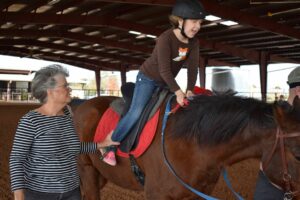 What's your favorite part about ROCK?
It's impossible to step onto the property without feeling a sense of calm. It's truly an amazing place. I am always in awe of how organized everyone must be to keep the ever changing wheels of ROCK classes constantly moving in perfect unison. And every person that works there… A-MAAAAZ-ING!!!
I have the highest respect for everyone on staff and every volunteer that contributes to making ROCK the incredible place that it is. Also, I equally respect our Riders and their families who give us all the privilege of being a part of their healing process. It's a real gift for me to share this special time with them.
What do you like to do when you're not at ROCK?
When I'm not at ROCK I enjoy practicing yoga, long walks, cooking, traveling, and working on home improvement projects with my husband Charley. But hands down, the time we spend with our big wonderful family is the best. We have seven grown children between us and five grandchildren. We still host all the holidays, and we thrive in the crazy, wild whirlwind of wonderful. We are truly blessed.
I continue to volunteer with Hospice Austin in a variety of capacities, and Hospice Austin's Camp Braveheart is near and dear to my heart.
I've been able to make time to work with both worthy organizations. I am a believer that "being busy is good thing." I am blessed to have the ability to do these things.
I'm retired from The University of Texas at Austin where I worked in McCombs School of Business as a PhD Program Coordinator and Course Scheduler.