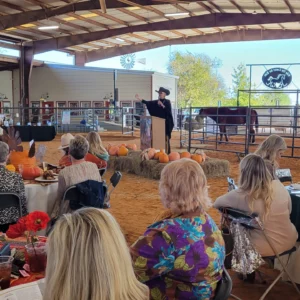 ROCK, Ride on Center for Kids held its first-ever Cowgirl Bruncheon "Courage & Grit" on Saturday, Nov. 5, 2022 at the Merlin Hoppe arena. Hundreds of local businesswomen and leaders attended this women-focused event which featured emcee and Texas Cowboy Hall of Famer, Patti Colbert and keynote speaker and National Cowgirl Hall of Famer, Dr. Eleanor Green. Thank you so much to presenting sponsors Embree Group, Dr. Barbara & George Brightwell, and Nancy Krenek as well as our event sponsors Carlson Law Firm, Gattis Ranches, and RBank.
Bruncheon attendees were treated to a table decorating contest, raffles, mimosas, and the soothing sounds of Southwestern University's string quartet before enjoying brunch provided by Gumbo's North, Tejas Meat Supply, 2020 Market Scratch Kitchen & Bar and Hard Count Kitchen and Cocktails. Congratulations to the winners of our table decorating contest Carol Sandlin, Lucretia Crenwelge, and Sherri Rosenbaum.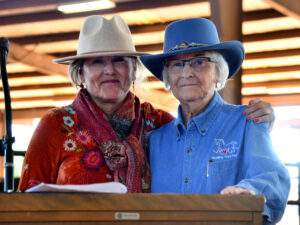 ROCK also used this event to establish the Dr. Barbara Brightwell Grit Award in honor of Dr. Brightwell's decades long career of service and presented it to her as the first recipient. Dr. Brightwell has over 50 years' experience in teaching and administrative positions in elementary and secondary schools and institutions of higher education, management of small businesses, and consulting with government agencies, corporations, churches, and healthcare institutions in Texas. In 1977 she became Dean for Student Development at Southwestern University. As a consultant with the Georgetown Healthcare System, she created the volunteer Pastoral Care Program and the Healthcare Foundation and served as Director of Community Relations and Educational Services at Georgetown Hospital, now St. David's Georgetown Hospital.
She initiated and provided leadership in the creation of The Georgetown Project, the Williamson Council on Alcohol and Drugs (LifeSteps), the Georgetown Community Resource Center, the Williamson County Institute for Excellence in Nonprofits, and Seeds of Strength, a women's philanthropic organization. She has served on numerous other boards and committees in the Georgetown community, including ROCK, Ride On Center for Kids, the Georgetown Health Foundation, and the Chisholm Trail Communities Foundation. Dr. Brightwell is also a founding member of Wellspring United Methodist Church in Georgetown. The Dr. Barbara Brightwell Grit award will be presented annually to women who represent her spirit of grit and determination.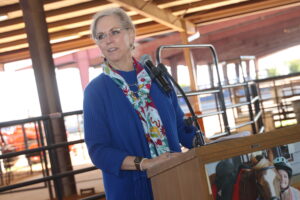 Bruncheon concluded with a keynote speech delivered by Dr. Eleanor Green. Dr. Green's speech highlighted various moments in her career and the challenges she faced as a female veterinarian. Her stories captivated and inspired audiences to infuse the concept of Courage and Grit into their own lives.
Thank you so much to everyone who came out and attended this inaugural event. A special thank you Ideal Signs, Georgetown Men's Beard Club, David Valdez, and Ron Parks Photography as well as all our volunteers for helping make this event a huge success. Thank you also to the following for donating raffle baskets: 600 Degrees Pizzeria, Antandy Boutique, Michelle Bubela, Cedar Crest Hospital, Created Woman, Dan & Rebecca Delich, Tania Easton, The Exchange, Hair by Naomi Hope, Liberty Dog Barkery, Maggiano's, Once Upon A StoryBook Studio, Karah Powell, RBank, Red Bird Mercantile, Rise Up! Balloons, Roberts Printing Co, Barbara Shaffer, Shelby Senior, Shear Envy, Shop Lavish, Southwestern University, Spa Luxe, and Wag Heaven.