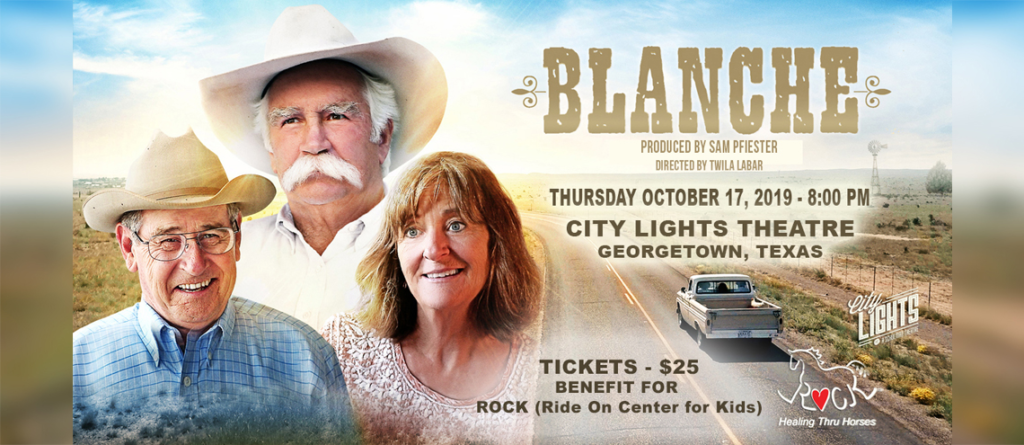 BLANCHE SCREENING – BENEFIT FOR ROCK (Ride On Center for Kids)
Produced by Sam Pfiester, Ed Pfiester, Liz Rogers
Directed by Twila LaBar
Producer and screenplay writer Sam Pfiester will host a screening of his independent film "Blanche" at 8:00 p.m. on Thursday, October 17, 2019 at the City Lights Theatre in Georgetown, TX.
"Blanche" is a heartwarming, humorous story about old friendships and new beginnings. The story features a lonely, gritty west Texas rancher who has disengaged from life until an old compadre masterminds a crazy bet on a chicken named Blanche to help him realize there are second chances at life and love. This captivating Texas tale was inspired by a true bet and filmed in Marfa and Alpine, Texas with a cast of real-life west Texans. Rated PG.
Tickets – Donation of $25 per person (Benefit for ROCK – Ride On Center for Kids) Purchase tickets here.
•ROCK (Ride On Center for Kids), a 501 (c)(3) nonprofit organization, provides equine-assisted activities and therapies to children, adults, and veterans with physical, cognitive and emotional challenges. ROCK participants range from 2 – 92 years old and see improvement in most aspects of their life; from muscle tone, strength, flexibility, and balance to cognitive, behavioral and emotional improvements. Our programs include equine-assisted therapy (EAT), equine-assisted activities (EAA), ROCK On Veterans, and equine-assisted learning (EAL) programs for schools, juvenile programs, residential homes, and individuals.
Visit http://rockride.org for more information about ROCK.

Watch the trailer: