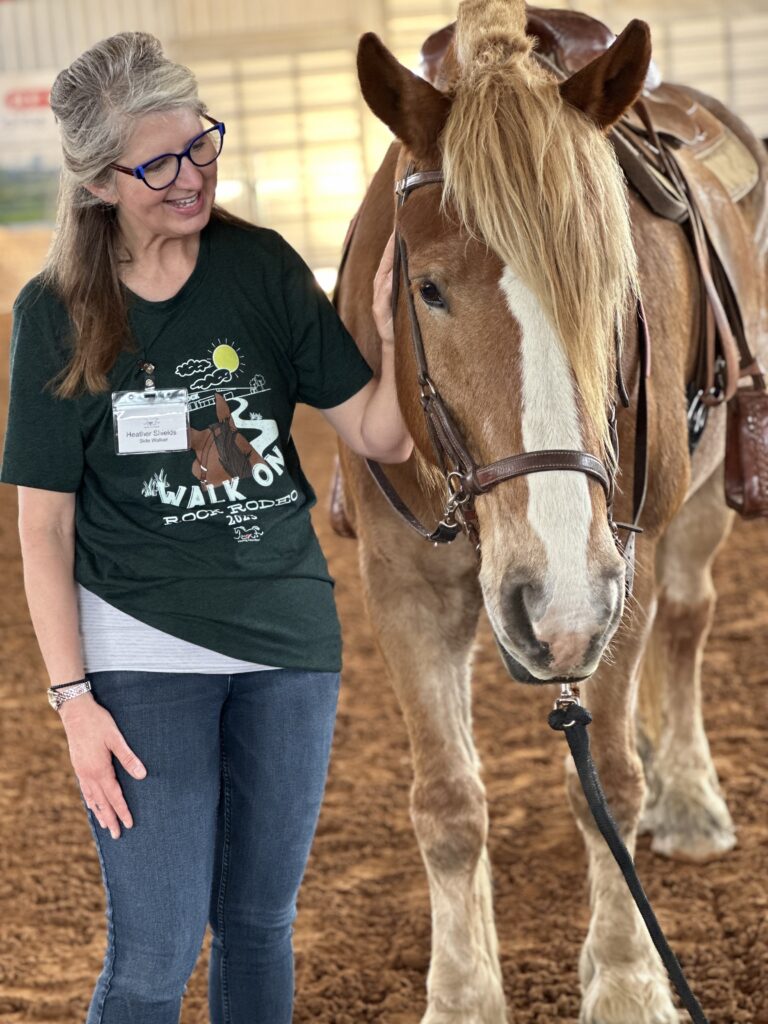 It all started with a simple interview on the radio. Heather Shields, our featured volunteer for the month of May, was listening to the radio while driving to work one day. She heard Nancy Krenek talking about ROCK, the amazing things we do, and the need for volunteers. Once Heather's busy work schedule cleared up, she reached out to learn more about becoming a volunteer.
Heather can be found at ROCK on Monday afternoons working in the grooming stalls as Pit Crew, and then serving during the evening classes in the dirt as a Side Walker. While she had an idea she would enjoy volunteering at ROCK, she is surprised at how much she looks forward to coming out and being around the participants, other volunteers, instructors, and horses. Heather is amazed at how beautiful and majestic the horses are!
Heather's favorite thing about volunteering at ROCK is helping wherever she can. She is often seen sweeping sidewalks, scooping poop, and at the end of the evening, pulling props from the arena and helping to close down for the day. Heather never needs to be asked to help, she always jumps in wherever she can. When not at ROCK, Heather likes hiking, reading, cooking and especially likes great coffee and tea!
Heather's call to volunteer was inspired by her Uncle Vic's life. He had served in the National Guard and was in an accident while on duty and suffered a Traumatic Brain Injury. She was able to see him progress by receiving PT/OT and different therapies that increased his independence through the rest of his life. She feels Uncle Vic would have loved and benefited from ROCK, and no doubt be proud of Heather.
Heather's inspiring story highlights the positive impact that volunteering can have for individuals. ROCK is fortunate to have such dedicated volunteers as Heather, and we hope her story will inspire others to get involved in our community.