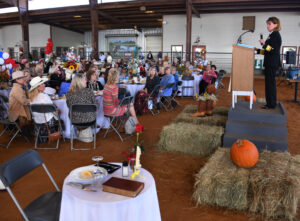 ROCK, Ride on Center for Kids held its 2nd Annual Cowgirl Bruncheon "Courage & Grit" on Saturday, Nov. 4, 2023, at the Merlin Hoppe arena from 11:00 am – 1:30 pm. ROCK was excited to welcome women from throughout the local business community for an inspirational afternoon with emcee and Cowboy Hall of Famer, Patti Colbert, and keynote speaker Rear Admiral Christina M. "Tina" Alvarado Shanahan. Guests found themselves captivated as Shanahan shared her experiences in the Navy, her deep affection for Paint horses, and the inner spirit of Courage and Grit that fueled her. ROCK also pleased to announce the first recipient of the Dr. Barbara Brightwell Courage & Grit Award, a tribute to Dr. Barbara Brightwell's enduring lifetime of service which was established last year. This distinguished accolade was bestowed annually in honor of her exceptional contribution and was awarded at the Cowgirl Bruncheon.
The event, hosted for the local women's business community, featured brunch, mimosas, raffles, a keynote speech, and a special table decorating competition. Attendees had the opportunity to decorate their tables prior to the start of the event, where three winners were selected by a panel of judges.
Thank you once again to everyone who attended the 2nd Annual Cowgirl Bruncheon this past Saturday. We hope you had a wonderful time with all your cowgirl friends and hope to see you next year. Please save the date for Saturday, November 2, 2024 (the first Saturday in November each year).
We would also like to thank our community partners:
Hat Trick Promotions
,
Hydrate on the Square
,
Georgetown Beard Club
,
The Golden Rule
,
Tejas Meat Supply
,
Faith's Scrumptious Ambitions
,
2020 Market Scratch Kitchen & Bar
, Patti Colbert, Rear Admiral Christina M. "Tina" Alvarado Shanahan,
Ron Parks
,
David Valdez
, Patti Loers,
Tressie Hoffman
, Audrey Uballe Prather of Bougie Brims, and Chris Miller as well as the Bruncheon Committee, Stephanie Williams, and Carol Ann Sandlin. A great big shoutout to our staff members and all the amazing team from
Dell
, and our very own ROCKateers who really put in a huge effort to transform our arena to a wonderful place for you and your girlfriends. And finally, thank you to
OoLala Georgetown
,
The Baked Bear
,
La Bella Casa
,
OutlawsandGypsiesgtx Boutique
,
Lamppost Coffee
,
Red Bird Mercantile
, and Kai and Lynn, for providing a gift to the ladies at each of the table decoration competitions. These 50 tables were judged by our very own celebrity judges, Amanda Pharr, Cindy Posey and Shontel Mays.
Congratulations again to
Hunter Adkins
for winning the Dr. Barbara Brightwell Courage & Grit Award, a tribute to Dr. Brightwell's enduring lifetime of service. This distinguished accolade was bestowed to her at the first Cowgirl Bruncheon and will now annually honor someone in our community who lives their life with Courage & Grit.
Your generosity helped raise $82,539.50, plus one horse got sponsored!
Photos by David Valdez:
Photos by Ron Parks: