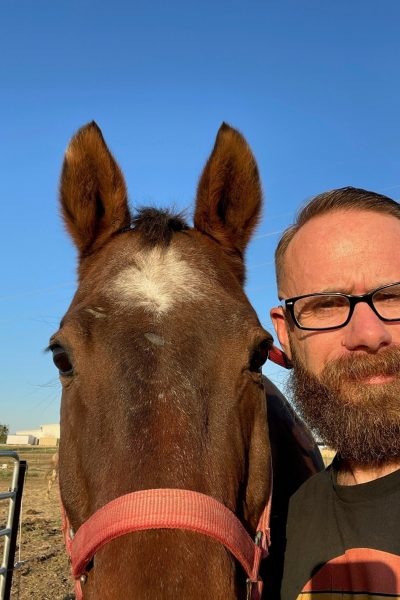 James Hohenstein's journey with ROCK began when he was searching for unique opportunities in equine-assisted services. He discovered ROCK through the VA (Veterans Affairs) when it was recommended as an option. James decided to give it a try and participated in the ROV (ROCK On Veterans) program. From that point on, he was hooked, not just by the services, but also by the incredible community, mission, and the remarkable horses.
James' volunteer journey at ROCK has been a dynamic one. He started as a side walker, providing crucial support to participants during their equine-assisted sessions. As he became more involved, he transitioned into the role of a horse handler, further deepening his connection with our equine partners. Recently, James joined the feeding team, taking on yet another essential role in ensuring the well-being of the horses. This fall, he's set to volunteer in all three roles, demonstrating his dedication to the cause.

What has truly surprised James about volunteering at ROCK is the incredible healing that stems from the relationships formed with the horses. While witnessing the positive impact on participants, he also experienced this transformative power personally. The connection with these majestic animals goes beyond equine-assisted services; it's a profound and unexpected source of healing.

James has not one but two favorite aspects of volunteering. First, he cherishes the opportunity to ensure that each participant and their family receives the best possible experience at ROCK. Knowing that he contributes to their well-being and growth brings him immense satisfaction. Second, as a member of the feeding team, James relishes the tranquility of being with the horses in a different capacity than during equine-assisted sessions. It's a chance to connect with these gentle giants on a more intimate level.

Outside of his commitment to ROCK, James enjoys spending quality time with his family, camping in the desert, tinkering in his garage.

James Hohenstein's journey as a ROCKateer exemplifies the transformative power of volunteering, not only in the lives of participants but also in the lives of those who give their time and passion to this remarkable organization. His dedication, compassion, and appreciation for the healing bond between humans and horses serve as an inspiration to us all.