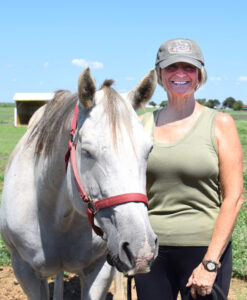 We're excited to introduce you to September's featured ROCKateer, Deb Myers. Many of you have likely seen her horse handling in ROCK On Veterans classes. More recently, Deb spent the month of August sharing her professional talents as she led staff through a series of organizational design meetings as we imagined the future of ROCK. We've been so blessed to have Deb as a volunteer and are eager to have you get to know her a little bit better.
How did you learn about ROCK?
Having fully retired from a 35-year career in education and moved to Austin from Cincinnati, Ohio in 2019, I was looking for a rather unique volunteer opportunity; one that was connected to education in some fashion but not directly school related. I was also drawn to a role that lent itself to stewardship of some sort and the ability to work closely with people. A former horse owner friend mentioned ROCK and I thought, "Well, that sounds like it could check all the boxes for me". Plus, ROCK presented an opportunity to reconnect with horses! What's not to love about this place!
What are you involved in here?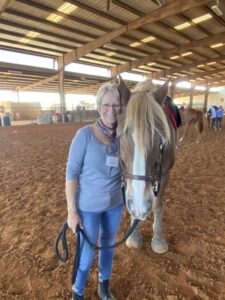 I started as a Sidewalker, and worked in a variety of different classes, which allowed to me to learn the ropes of how ROCK's programs work. It didn't take me long though to sign up for Horse Handler classes. In this role, I again worked in a variety of classes hoping to find my calling, my "best fit". I did just that as I'm now a Horse Handler for the ROV program, and in particular the Women's Veteran classes.
I joined the Conditioning Team too, as a way to get to know our herd better and also to satisfy my desire to work more closely with them. What a wonderful way to enjoy some real hands-on work with our fabulous horses!
Most recently, I was invited to tap some of my professional skills and work with ROCK staff on an organizational improvement project. This work focused on supporting ROCK's growth into its best ever future!
What do you most enjoy about being a volunteer?
Being a volunteer at ROCK is so rewarding in so many ways! I love being in the dirt, the smell of the tack room, feeling my horse's breath on my skin, watching the horses graze in the pastures. I love doing something that means something, making a contribution that truly matters to someone. I love working in a place where I feel grounded and secure, a place where my heart is filled with peace. I love seeing a rider's smile when she sits in the saddle for the first time, hearing her sigh when she hugs her horse's neck, knowing that the weight of his day is lifted at least for a while. I love the feeling of community here … where a diverse group of people come together to accomplish the magic of healing thru horses.
What else do you enjoy doing when you're not at ROCK?
I moved to Austin because my daughter, Carrie, and her hubby, John, wanted to be closer so I enjoy every second I can with them. My Toy Australian Shepherd, Kina and her BFF, my Ragdoll Kenzie are my constant companions. You can often see us walking the trails in our neighborhood; Kina on her leash and Kenzie in her backpack gazing through the port hole window!
I'm a consummate DIYer (my Daddy taught me well) and a casual artist. I enjoy the company of friends, trying new restaurants, day trips to check out the sights, and sitting on my porch during a thunderstorm.