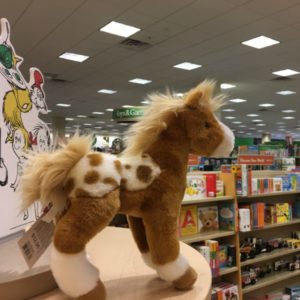 Join ROCK at Barnes & Noble in Round Rock for a fun-raising event on Saturday, September 23, 2017.
A portion of all purchases (except gift card & B&N memberships) made at Barnes & Noble in Round Rock on Saturday, September 23 or online from 9/23 – 9/28 will benefit ROCK!
Schedule of Events
10 am – 4 pm   Activities are planned until 4 pm but bookfair credit continues until store closes.
10 am – 4 pm   Complete the scavenger hunt for horses around the store and enter for a chance to win a B&N gift card.
10 am – 4 pm   Take home a ROCK horse coloring sheet and crayons (while supplies last).
10:30 – 11 am   ROCK Storytime (Book read by Nancy Krenek, CEO & Founder of ROCK)
11:30 am – 1 pm   Pet a ROCK therapy horse in the parking lot
11 am – 12 pm   B&N regularly scheduled Storytime (Big Words for Little Geniuses)
2 – 3 pm   Cookie decorating – Purchase your cookie in the cafe and decorate it at the cookie table.
3:30 – 4:00 pm   ROCK Storytime (Book: Sergeant Reckless: The True Story of the Little Horse who became a Hero)
4:00 pm   Drawing for B&N gift card for scavenger hunt participants. (You do not have to be present to win.)
Online orders placed from September 23-28 will also count towards ROCK's goal. Online orders should visit barnesandnoble.com and apply ROCK's bookfair number 12198149 at checkout.
Thank you for your support of ROCK!
For more information about ROCK, visit www.ROCKride.org or call (512) 930-7625.