ROCK Announces 7th Annual Rider Cup Classic Golf Tournament benefiting ROCK On Veterans Therapeutic Horsemanship Program.
Georgetown, TX — Registration is now open for the 7th Annual Rider Cup Classic Golf Tournament benefiting the ROCK On Veterans Therapeutic Horsemanship Program. The tournament will be held on Friday, October 12, 2018 at the Cowan Creek Golf Club, 1433 Cool Spring Way, Georgetown, TX. Sponsorships, as well as team and individual player registration, are available. Registration begins at 11:30 AM with a Shotgun Start at 1:00 PM. Box lunch, snacks and drinks will be provided on the course. All golfers will also receive one complimentary companion ticket so a guest many join them for dinner. Dinner, raffle, silent auction, live music, and awards ceremony begins at 6:00 PM. To sign up or find out more, visit the ROCK website at http://rockride.org or the event registration website at https://one.bidpal.net/rockridercup2018.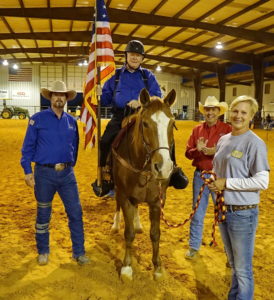 ROCK has proudly served veterans and their families since 2005. Research published in collaboration with Baylor University shows that ROCK's veterans programs decrease depression and improve quality of life for both veterans and their families. Through the horse-human connection, ROCK has seen countless miracles as veterans return from the isolation of depression and PTSD, reuniting with their families on whole new levels, and finding new purpose in life again. In the 2016-2017 program year, ROCK provided service hours to hundreds of veterans and their family members. In addition to serving veterans, ROCK offers Camp Courage, a yearly camp for the children of veterans and active duty service members. ROCK is able to offer these programs to veterans and their families thanks in large part to the generosity of Rider Cup Golfers and Sponsors.
About ROCK
ROCK (Ride On Center for Kids), a 501 (c)(3) nonprofit organization, provides equine-assisted activities and therapies to children, adults, and veterans with physical, cognitive, and emotional disabilities. ROCK's clients range from 2 – 92 years old and see improvements in most aspects of their lives; from muscle tone, strength, flexibility, and balance as well as cognitive, behavioral, and emotional improvements. ROCK is located on 60 beautiful acres in Georgetown, Texas. Celebrating 20 years of service to Central Texas, ROCK's mission is to improve independence and life skills in partnership with the horse. ROCK is a PATH International Premier Accredited Center.
###