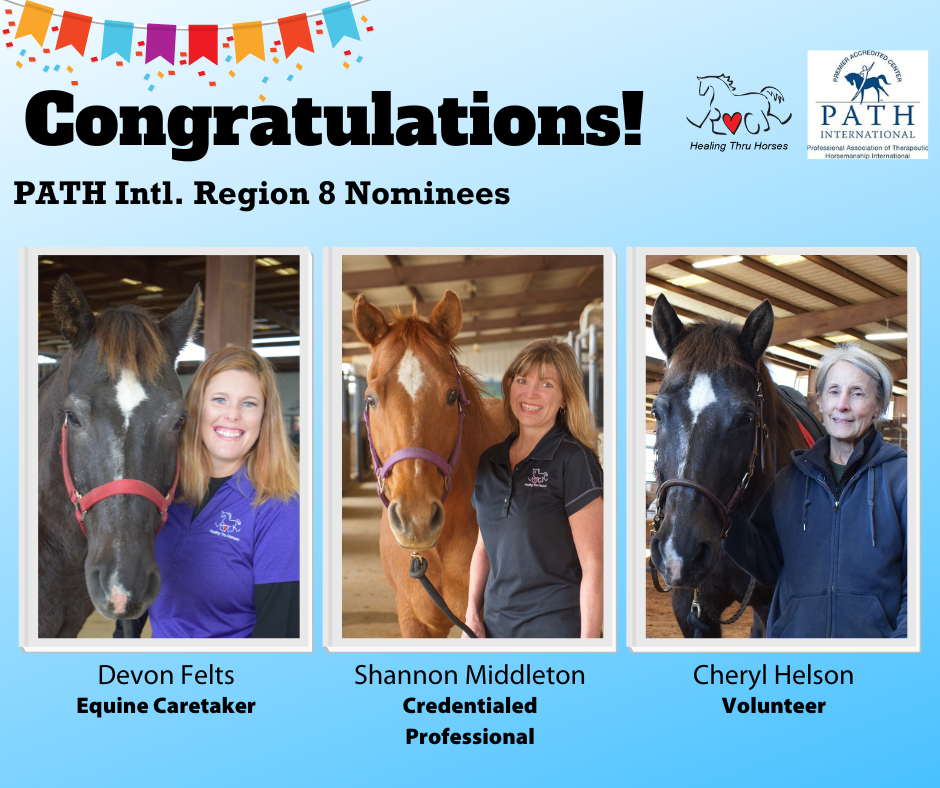 ROCK is excited to announce our nominees for PATH Intl. Region 8's annual professional awards. As a PATH Intl. member, ROCK staff has selected nominees to represent our center at the Regional level in the following categories: Credentialed Professional, Volunteer, and Equine Caretaker. Congratulations to Shannon Middleton who was selected as our nominee for Credentialed Professional, Cheryl Helson for Volunteer, and Devon Felts for Equine Caretaker. We are all so proud of you and wish you the best of luck on your nomination.
About Shannon – Credentialed Professional of the Year Nominee
Shannon is the Safety & Education Director at ROCK, a CTRI, Mentor, HPCS, ESMHL, Speech-Language Pathologist and has served PATH Intl. as the Region 8 Representative and Membership Outreach Committee Chair. She serves on the AHA Best Practices Committee as well as an ASHA CE Consultant and AHCB Board Member.  She is also a multiyear presenter at Region 8 and National Conferences. Between her commitment to the equine-assisted services industry and her passion for learning, it's no wonder Shannon was chosen to present ROCK this year.
About Cheryl – Volunteer of the Year Nominee
Cheryl has been a volunteer at ROCK for 14 years and has thousands of hours of experience as a horse handler and side walker. Cheryl goes "above and beyond" at all she does–feeding in ALL weather, stall cleaning, training volunteers, horse handling and sidewalking. She learns about each horse, participant and staff they work with, and the center guidelines. Cheryl is constantly educating the community about EAS. Her support of ROCK's mission continues to humble us, and we are forever grateful for all the love and sweat Cheryl has given to ROCK over the years.
About Devon – Equine Caretaker of the Year Nominee
The Equine Caretaker category is new at PATH Intl. this year, and we can't think of a more deserving individual for this award. Devon takes care of her own herd of horses at home and then shows up at work 7 days a week to feed, medicate, and sometimes trailer horses to the vet. She is on the job round the clock making sure the ROCK herd is well-cared for. She is a tremendous asset to the ROCK and the EAS industry.