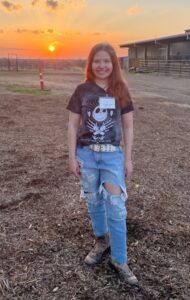 ROCKateers come in all ages! While many ROCKateers are adults, anyone interested in volunteering can begin as young as 14-years-old, and we just love our younger volunteers. This month's featured volunteer, Chloe, is a former participant who loved her time at ROCK so much that as soon as she was able to, she signed up for volunteer training. Since then, she's been off and running! Keep reading to learn more about Chloe and her time her at ROCK as a volunteer.
How did you become involved with ROCK?
I started as a rider at ROCK 5 years ago. After I graduated from being a rider, I became a volunteer last year.
What do you help with when you volunteer at ROCK?
I help Maddie in the Volunteer Department with cleaning tables, pulling tack and helps groom and saddle horses. I also help get folders ready for volunteer trainings.
What do you enjoy most about ROCK?
What I most enjoy is watching the riders as they are learning like I did. I also love helping get the horses ready for classes.
What do you do when you're not at ROCK?
When I'm not at ROCK, I like to ride horses, and I love being on my high school bowling team. I also love science and doing small experiments.