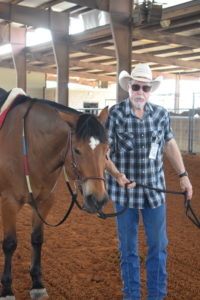 With 241 ROCKateers making up the core of our volunteer team this past year, it's really hard to pick just one volunteer to feature each month. There are just so many of you who deserve to be recognized! We did manage to narrow it down and this month's featured volunteer was an obvious choice with his hard work and willingness to do what's needed – rain or shine. In the five years that he's volunteered at ROCK, July's featured volunteer, Rich Marshall, has become a reliable horse handler, team leader, feeder, and friend to all.
Rich started volunteering at ROCK in 2017 after his friend Laura told him about what we do and suggested her get involved. It was a natural fit for being able to work with horses and the rest, as they say, is history. Rich says he loves seeing the smiles on the kids' faces when they get on a horse. He also enjoys working with the veterans and ROCK On Veterans program, knowing that he is making a difference in their lives.
Rich was born in Southern Ohio, although he is well acquainted with Texas having lived here for the past 43 years. When he's not spending time with his wife of almost 48 years or his son, Rich enjoys fishing, hunting, wood working, playing corn hole, and watching old Westerns.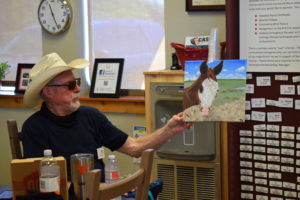 Thank you so much Rich and as well as all the ROCKateers who have been coming out to brave the heat this summer. Your willingness to give of your time and talents is at the very heart of what we do and in turn provides healing to the children, adults, and veterans who come to ROCK.