We recently shared an interview with our Region 8 nominee for Credential Professional of the Year, Amy Tripson. This week, we took a minute to catch up with ROCK's PATH Intl. Region 8 nominee for Veterinarian of the Year, Beau Whitaker!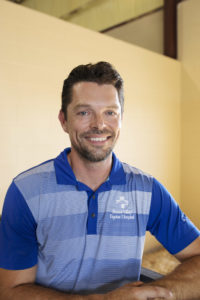 Beau Whitaker is an equine veterinarian and co owner at Brazos Valley Equine Hospital in Salado, Texas where he focuses on sports medicine, rehabilitation, and research. He grew up on a farm in Tennessee near Nashville before attending Oklahoma State University and then Texas A&M for vet school. He did a one year internship at Arizona Equine and worked at the 6666's Ranch before moving to Salado in 2007 where he currently lives with his wife Ashley and two daughters Peyton and Kaydence. Beau became a Certified Rehabilitation Practitioner in 2014 and spends one day a week working with horses at a rehab center helping them recover from injuries. Beau is also a western pencil artist and donates art to multiple charities for fundraisers.
Beau took some time to answer a few questions and let us get to know him just a little better.
What inspired your to become a veterinarian?
I had the standard love for animals and enjoyment from working with them but I also had a moment of inspiration when I decided to become a vet. I worked for a vet named Dr. Brogli in the summers during college. Going into my senior year I was undecided on what I wanted to do with my life; either go to vet school or graduate school. We went out to a lady's home with an injured horse. The woman was really upset and worried for her companion. Dr. Brogli fixed the horse and also reassured the owner that everything was going to be okay. The woman was so grateful and having her horse better was the most important thing to her. I decided in that moment that I wanted to help people in that way. Honestly just helping animals was not enough to push me over the edge. I had to come to the realization that I was helping people through helping horses.
What is your favorite part about working with equines?
I would say my favorite part is interacting with good clients and helping them achieve their goals. Relative to horses directly I enjoy the variety and the challenge of figuring things out. Since they can't talk we have to be part detective and that is really fun.
Do you have any advice for someone looking to become a vet?
Do it because you love it and you would not be happy doing anything else. Just loving animals is not enough. Make sure you get exposed to what it is like to be a vet. It is not for everyone but is extremely rewarding in many ways for those that are wired to handle the ups and downs of the profession.
If you weren't doing this, you would be doing …
I actually have a lot of interest in the liberal arts. Particularly art and philosophy. Perhaps I would be a professional artist, though the euphemism "starving artist" is all too real.
Thank you Beau for always taking amazing care of the ROCK herd and best of luck with your nomination!