As a member of PATH Intl., each year ROCK is able to nominate a Credentialed Professional of the Year for Region 8. Along with our nominees for Equine of the Year (Dunny) and Veterinarian of the Year (Beau Whitaker with Brazos Valley Animal Hospital), these nominees represent the Excellence, Honor, Compassion, Safety, and Integrity that make up our core values.
Last year, ROCK was honored to not only nominate our CEO and Founder Nancy Krenek for Credentialed Professional, but to have her receive the award at the Regional and National level. It was truly a huge honor and some big footsteps to follow in. This year, we are so very excited to announce our nominee for Credentialed Professional as none other than Amy Tripson.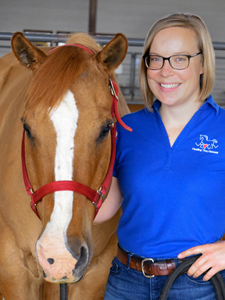 Amy joined ROCK a year ago and brings a variety of skills through her education and work experience at therapeutic centers large and small. With a bachelor's degree in Psychology, a master's in Kinesiology, and 20 years of horse experience, therapeutic riding was a natural fit for her interests.
Amy obtained her PATH Int'l Registered Level Instructor certification in 2015 and after starting her journey in Colorado has since worked in Georgia, South Korea, Connecticut, and China. During her travels she has assisted two centers in achieving their initial PATH Intl. Premier Accreditation and enjoys process development and organizational planning. In addition to her PATH Intl. Advanced Instructor Certification, she is a PATH Intl Mentor, Certified in Volunteer Administration (CVA) and pursing her EdD in Leadership Studies.
We recently sat down with Amy and asked her a few questions about her experience in equine-assisted services over the years.
How did you get involved in equine-assisted services?
When I graduated from grad school I moved to Colorado thinking I was going to get into Corporate Wellness but couldn't find a job. My friend had interned at a center in Colorado and they happened to have an Office Assistant position open which I applied for. During my time at that center I started the instructor process and obtained my certification the following year. For years my family had suggested I look into the EAS field as something I would enjoy, but it didn't become a reality until my first EAS job in Colorado which was a position that didn't even work in the dirt.
What is your favorite part about being an instructor?
My favorite part is being able to teach individuals how to do something that they didn't know or didn't think they could do. Those small and large victories, the encouragement and pride in themselves that many get from riding is a very fulfilling feeling.
Do you have any advice for someone looking to get involved in equine-assisted services as a career?
I've actually said this for years, but if you want to be successful and work full time, make yourself marketable. Improve your instructor, administrative and interpersonal skills and learn new skills that benefit the whole center. We all know that many staff at nonprofits wear multiple hats and the more hats you can wear, the greater your options and chance of success in the industry becomes.
If you weren't doing this, you would be doing …
Such an interesting question, I would more than likely be in consulting or research with organizational management and process development helping other nonprofits or small businesses.
Thank you Amy for sharing a little bit about yourself with us and best of luck with your nomination!