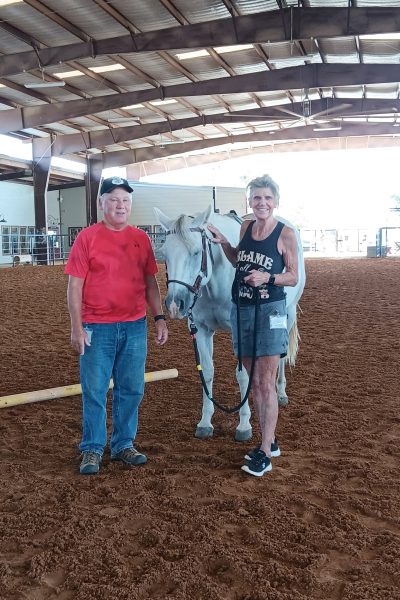 In every thriving community, there exist unsung heroes who devote their time and energy to create positive change. Paul and Julie Epperson are shining examples of such dedicated individuals, whose unwavering commitment to ROCK is not only transforming their own lives but also enriching the lives of those they serve. The Eppersons' journey with ROCK began with a stroke of serendipity. Hearing about the program through a friend who has worked with horses, their interest piqued. Additionally, Julie has prior experience in assisting children with autism through sidewalking in college.

Paul and Julie's roles within ROCK have evolved over time, reflecting their deep dedication to the program's mission. They began as sidewalkers, offering vital support to riders. Subsequently, the couple invests significant time, participating in nine sessions of training to become proficient horse handlers. One of the most surprising aspects of their volunteer experience at ROCK is the gentle and well-behaved nature of the horses. This revelation speaks volumes about the profound bond between the animals and the dedicated volunteers at ROCK. The comprehensive training provided only serves to emphasize the program's commitment to ensuring a safe and enriching experience for all involved.

For Paul and Julie, the heart of their volunteer work lies in the cherished moments spent with the horses. Their journey from novice horseback riders to adept handlers is a remarkable learning experience. Moreover, they hold in high regard the warm and welcoming community at ROCK, describing it as heartwarming. The camaraderie, support, and encouragement from fellow volunteers and riders alike form the bedrock of their commitment.

Outside of their roles at ROCK, Paul and Julie lead dynamic lives. Julie, an avid cyclist, has participated in eleven MS 150 charity rides, covering an impressive 100 miles per week. Additionally, she is an active member of a book club and a Bible study group. Both Paul and Julie actively participate in a church small group. Their shared love for outdoor activities, including neighborhood walks and hiking, further solidify their strong bond and shared values. The Eppersons' devotion extends beyond their volunteer work and into their role as parents and grandparents. Their love for family shines through, with four children, eight grandchildren, and five great-grandchildren holding a special place in their hearts, since they do not live in Texas.

Paul and Julie Epperson's journey with ROCK is an inspiring testament to the transformative power of volunteering. Their dedication to the program, its riders, and the horses exemplifies the profound impact individuals can have when united by a shared purpose.