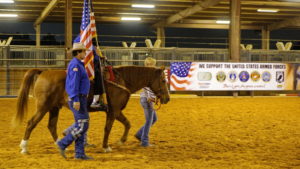 ROCK On Veterans 5th Annual Open House will feature a special performance by Fort Hood 1st Cavalry Horse Detachment
Join ROCK (Ride On Center for Kids) in honoring veterans at the fifth annual ROCK On Veterans Open House on Tuesday, November 6, 2018 from 6:00 pm – 8:00 pm at 2050 Rockride Lane in Georgetown. The Fort Hood 1st Cavalry Division Horse Cavalry Detachment, under the command of CPT Jenny Nocella & 1SGT Romairick Whiteing, will perform a seven-rider drill and ceremony. This event will provide first-hand information from participating veterans on how the ROCK On Veterans Therapeutic Horsemanship program has changed their lives. The event is free and open to the public. Light refreshments will be served. Download the event flyer here.
ROCK is a nonprofit organization providing equine-assisted therapeutic programs and activities for children and adults with disabilities and veterans helping improve independence and life skills in partnership with the horse. ROCK, celebrating 20 years of Healing Thru Horses, was founded in 1998 and began serving veterans in 2005. ROCK On Veterans offers women only and co-ed programs for service members and veterans, as well as programs for the entire veteran family. For more information, visit www.ROCKride.org or call 512-930-7625.
About ROCK (Ride On Center for Kids)
ROCK is a non-profit 501(c)(3) organization founded in 1998 to provide equine-assisted activities and therapy. Based in Georgetown, Texas, ROCK serves over 300 children, adults, veterans, and their families every year with the help of hundreds of community volunteers and the ROCK Staff. ROCK is a PATH International Premier Accredited Center.
For more information, contact:
Kathy White, Communications Director
2050 Rockride Lane
Georgetown, TX 78626
512-930-7625 office
Kathy@ROCKride.org
###