Howdy y'all! I am Tressie Hoffman. This summer I got to ride at ROCK, and the reason I come to ROCK is to spend time with the horses and the people. The horse I rode at ROCK this summer is an A&M horse named Lee. Lee and I have a strong connection because when I start to groom and talk to him, he stays quiet and calm. Lee is 22-years-old, and he is 1 of 3 horses that came from A&M. He likes to hang out with his friends Ike and Grant, and he is also one of the horses that pulled the Parsons Calvary Cannon. When I ride him, Lee makes me a better rider. The people who influence me the most are the instructors that I had over the years such as Phoebe, Amanda, Alyssa.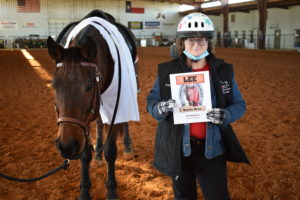 My favorite thing to do here at ROCK is to trot because it is so fun. The reason I like being here at ROCK is because I love it. It is my happy place and I just love what the people are teaching me here. When I first rode Sonny, my very first horse, I had some anxiety, but once I got used to him all my anxiety was gone. I felt relieved.
Now that I am back at ROCK, I am riding Icy. She is 13-years-old and is white with grey speckles. I haven't started riding her yet, but I will within the next two weeks. I am a little nervous and excited because it's a new adventure and new experience. I wholeheartedly love new adventures and am up to the challenge with new horses. My new instructor is named Stephane and her nickname is Bulldog. She is teaching me this year, and I am excited to learn things about my new horse's posture and gait.